We propose a list of helpful resources for your daily life at the lab or when troubles arise.
---
Gipsa-lab PhD Student Guide
You're looking for how to install the vpn, get your pay slips online, book a room, or find training, etc. ?
You probably have a lot of questions, especially when you're starting, that's why the gipsadoc has created a startup guide for newbies. To get a copy in French or English, contact us!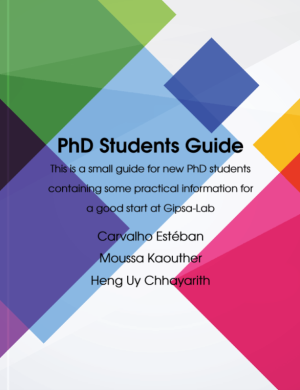 ---
Email adress to know
Mail aliases of the different services :
sos-info@ : IT service, if you have an issue with :

your pc,
your email adress,
the wifi / ethernet,
…

patrimoine@: if you have / if you encounter problems in the laboratory :

ligth issue,
a shutter that does not close,
no electricity,
heater failure,
…

rh@ : HR questions related to registration, your contract, etc.

direction@ : To directly contact direction members.
---
When trouble arise
The COMUE did a list of people to contact in case of harassment that you can find here !
---
Misc ressources
Official laws on our status :
An extract of JORF n°0122 du 27 mai 2016, article 3 :
Les écoles doctorales :

4/ Assurent une démarche qualité de la formation en mettant notamment en place des comités de suivi individuel du doctorant et proposent aux encadrants du doctorant une formation ou un accompagnement spécifique